MNJ AT MODERN VINTAGE CHICAGO MARKET OCT 18-20
MODERN VINTAGE CHICAGO EXPO IS BACK, SO IS MISS NYET JEWELRY
BE AMONG THE FIRST TO PREVIEW AND SHOP MNJ'S "WOAH, FRENCHY" UPCOMING FALL/WINTER COLLECTION 2013/14
CHEER FOR MODELS WEARING MISS NYET JEWELRY CREATIONS AT THE PUNK AND PAPER DOLLS FASHION SHOW ON OCTOBER 18 FROM 6 PM TO 8PM.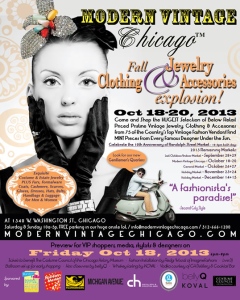 "Referred to as "a fashionista's paradise" by SecondCityStyle.com; touted as a "Random Act of Kindness: 5 things we are loving this week" by the Tribune's Red Eye; and "cool vintage personified" by Qlixmag.com, Modern Vintage Chicago is the only place you will find vintage clothing, jewelry and vanities by style icons such as Halston, Balenciaga, Patrick Kelly and Chanel alongside Chicago's leading Indie Designers. Presented by the producers of the Randolph Street Market, Modern Vintage Chicago is designed to fuse the worlds of forward contemporary design and classic vintage fashion for shoppers that appreciate both worlds."
FEATURING 75+ VENDORS ON TWO FLOORS (INDOORS EVENT)
8$ per day Saturday oct 19 and Sunday oct 20 (10 am to 5 pm both days), or 25$ for a 3-day pass which  includes admission to the punk and paper dolls fashion show on friday 18 october, 6 to 8 pm.
1340 W. Washington - Chicago, IL Plumbers Hall - Indoors Only
CLICK HERE FOR MORE INFO AND TO PURCHASE ADVANCE TICKETS