CORNUCOPIA HOLIDAY GIFT SHOW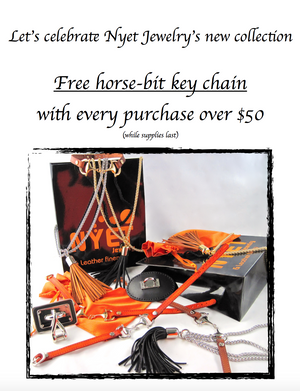 If you missed the launch of Nyet Jewelry's FW16 collection
"NO MEANS NO - THE ULTRA AFFIRMATIVE COLLECTION!"
at BLING last week, you're in luck:
NYET JEWELRY will continue the celebration at CORNUCOPIA HOLIDAY GIFT SHOW this weekend (BOOTH # 44).
Get your purchases gift-wrapped in "Orange is the new black" style (Black and Orange are Nyet's colors)
Get a free horse-bit key chain with every purchase over $50, while supplies last.
Cornucopia Holiday Gift Show 2015 - 60+ artisans - Open to the public
Friday November 20th - 5-9 pm cocktail party, raffle and more
Saturday November 21st - 10a-5p
Sunday November 22nd - 12-4 pm
For more than 20 years, the WCE's annual holiday gift show has been a go-to source for women's and children's apparel and accessories, unique home décor, gourmet food, and one-of-a-kind jewelry. Nearly 60 local and regional artisans sell their handcrafted and specialty items at this juried event. All three dates are open to the public and proceeds from Cornucopia benefit local charities.
Click here to read more about this year's vendors, to purchase tickets (6 dollars on Saturday and Sunday, or 10$ with a drink included on Friday. Or get a 3-day pass for 15 dollars).