A customer review about the Angelina 2.0 necklace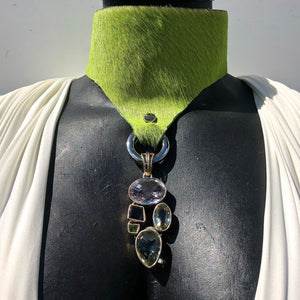 The Most Stunning Necklace!!
I am so pleased to write this review (and I normally don't) about my stunning necklace. Delphine was wonderful to work with, as the chain was a bit long so we shortened it a bit, which wasn't a problem at all. I own a lot of jewelry, but when I wear this piece for business, or just with a casual pair of jeans, EVERYONE stops me to comment on it to tell me how beautiful it is. The piece is the perfect size for me. Delphine's artistic design and craftsmanship is pure quality, more importantly, as jewelry is so personal, I feel so good wearing it. I would truly recommend Nyet Jewelry to anyone looking for a special piece or looking to host a fun trunk show. Her pieces from this collection are one of a kind and beautiful to wear.
This leather and semi precious stone necklace was one of a kind, but you can find another stunning piece here. Overnight shipping available.