NYET JEWELRY (and friends) TRUNK SHOW AT SOHO HOUSE IN CHICAGO!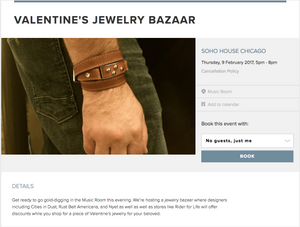 Thursday February 9, from 5 to 8 pm in the music room.
113-125 NORTH GREEN STREET
20% discount
(in-person purchases at event or order placed online that day with code SOHO20).
Soho House is a private club, therefore NYET Jewelry can only accommodate a guest list of 10 non-Soho members to attend this event. Please RSVP only if you are certain that you will attend.
For all Soho house members, we hope you can make it to this event, and be sure to invite threes guests to join us that night! ;-)
Here is a little more info about Soho House:
Soho House was founded in London in 1995 as a home from home for people working in creative fields. There are Houses located in the UK, Berlin, Istanbul, New York, West Hollywood, Miami, Chicago and Toronto.
Unlike other club concepts, which often focus on wealth and status, we aim to assemble communities of members that have something in common: namely, a creative soul. The majority of our members work in traditional creative industries, with the film, fashion, advertising, music, art and media sectors, among others, heavily represented.